Vietcombank Bac Ninh – Together we are one
Together we are one team - a team building program was held at Flamingo Dai Lai Resort on a beautiful day of September 2015 for Vietcombank Bac Ninh.
This is an outdoor teamwork program with challenging but exciting activities in order to help people more intimate and more engaged to the company. Only the internal coherence and active cooperation can bring success for the whole team.
Presented at the Flamingo at 8:30, 110 Vietcombank's employees had enjoyably taken part into a series of challenges without any hesitating. They had to overcome 6 challenges:
1st Challenge: Flexible coordinate
2nd Challenge: Creative thinking
3rd Challenge: Teamwork & Consensus
4th Challenge: Enthusiasm & Conscientious
5th Challenge: Solving secret codes
6th Challenge: Glory success
At the end of 6th challenge, all of the member busted into tears of joy and happiness that they finally reached the victory of Solidarity, synergy, consensus.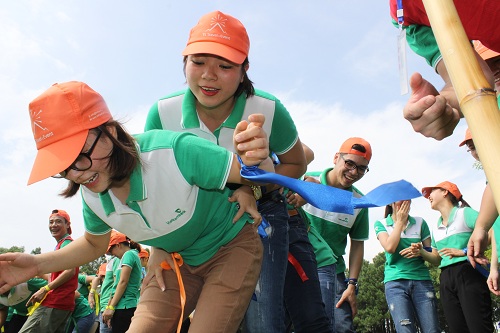 ———————————–
Add: 4th Floor, 142 Doi Can Str., Ba Dinh Dist., Hanoi
T: (+84 4) 62736 708 – (+84) 091 647 5256
Website: http://tstravel.vn/
FanPage teambuilding: https://www.facebook.com/TsTravel.TeamBuilding
Fanpage Travel: https://www.facebook.com/kynghithaison
Email: info@tstravel.vn